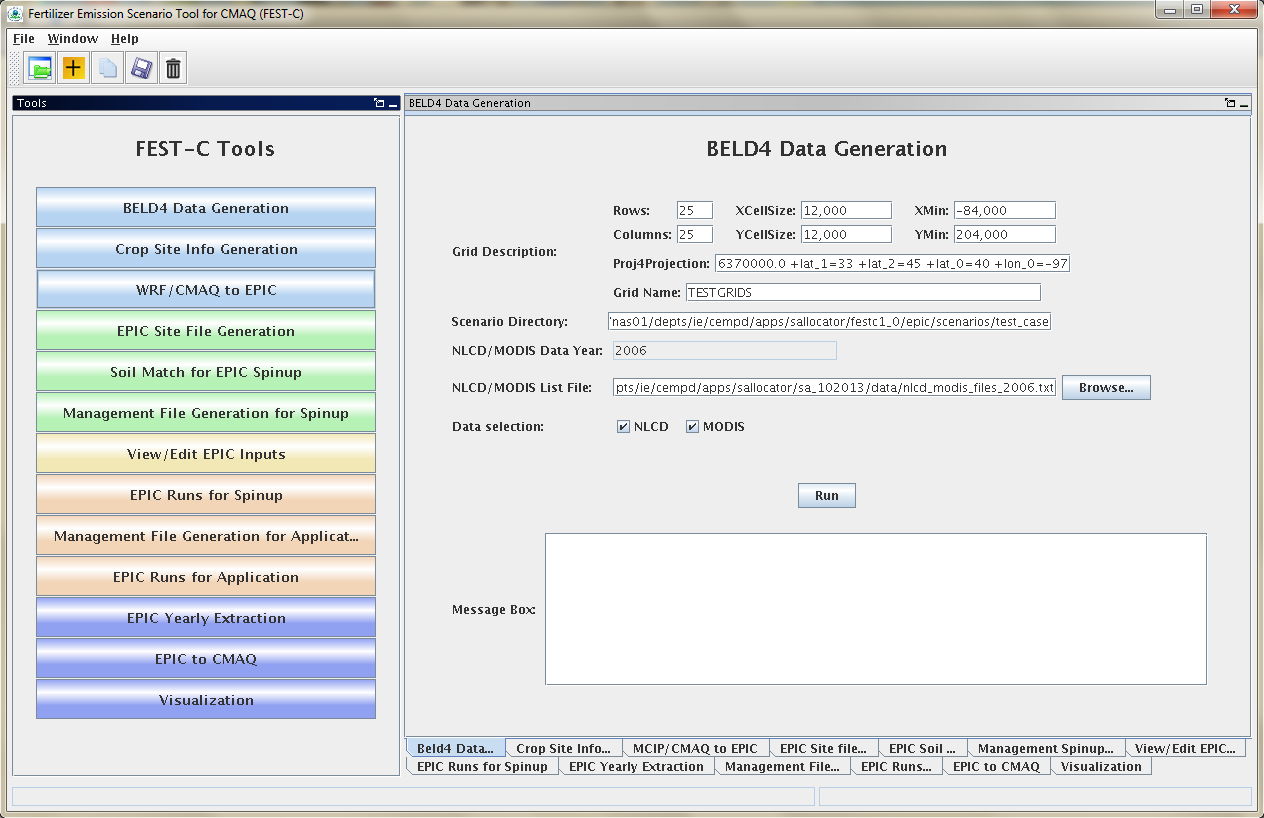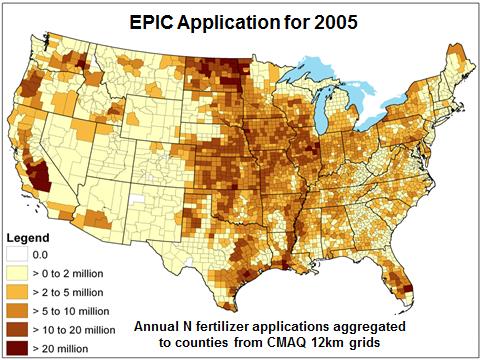 Generate fertilizer application input for CMAQ bi-directional NH3 modeling
The Fertilizer Emission Scenario Tool for CMAQ (FEST-C) system is used to simulate daily fertilizer application information using the Environmental Policy Integrated Climate (EPIC) model for a defined CMAQ domain. This EPIC output information is a required input for CMAQ bi-directional NH3 modeling. The FEST-C contains two major components - a Java-based interface and EPIC modeling system. The FEST-C interface integrates the WRF/CMAQ with EPIC through the current release of the Spatial Allocator (SA v4.3.1) Raster Tools system. The interface contains 13 sub-interface tools which guide users through the EPIC simulations for CMAQ. The FEST-C system can be used in assessing not only the impacts of agricultural fertilization and management practices on the air quality (NH3) and climate (N2O), but also the impacts of meteorology/climate and air quality (N deposition) on crop yield, soil erosion and overall nitrogen, carbon and phosphorus biogeochemical status of the agricultural ecosystem.
Features
Java-based FEST-C interface with 13 sub-interface tools to:
Build the input database of 21 crops for EPIC model simulations for a given CMAQ domain
Simulate daily fertilizer application information based entirely on simulated plant demand in response to local soil and weather conditions using EPIC,
Extract EPIC daily output for CMAQ bi-directional NH3 modeling, and
Visualize the simulation results spatially over the modeling domin.
EPIC Modeling system including:
EPIC model version 0509 from Texas A&M University (TAMU), modified by EPA to meet CMAQ input requirements,
Utility programs to build EPIC input data sets for CMAQ domain grid cells,
Common data sets (e.g. weather station climate statistic files and built soil data files) included in the EPIC modeling,
Scenarios which contain a test case and to store users' application scenarios, and
Documentation of the EPIC Modeling System for CMAQ 12km Grids in the FEST-C.
Notes
Follow the documentation for installation
FEST-C works for domains at different resolutions and in any of the four WRF projection coordinate systems - longitude/latitude, Lambert Conformal Conic, Universal Polar Stereographic, and Mercator
Updates in Version 1.3
Added additional output for bare land fraction and soil moisture
Added new feature which transfers beld4 file to ioapi format in the beld4 generation utilities
Added 2011 crop fraction for US and Canada for beld4 generation
Adjusted crop input parameters to improve yield evaluation in comparison to observations
Reduced number of output variables from EPIC2CMAQ
Bug fixes include elevation error, parameter inconsistencies, and EPIC2CMAQ daily extraction
Latest Version: FEST-C version 1.3
---
Training
Hands-on FEST-C training will become available to the community in the near future.
Support
Online Resources
Cooter et al. 2010: Estimation of NH3 bi-directional flux from managed agricultural soils, Atmos. Envi.
Ran et al. 2011: Development of an Agricultural Fertilizer Modeling System for Bi-directional Ammonia Fluxes in the CMAQ Model, 31th ITM paper.
Cooter et al. 2012: Linking agricultural crop management and air quality models for regional to national-scale nitrogen assessments, Biogeosciences.
Pleim et al. 2013: Development and evaluation of an ammonia bidirectional flux parameterization for air quality models, JGR-Atmosphere.
Bash et al. 2013: Evaluation of a regional air-quality model with bidirectional NH3 exchange coupled to an agroecosystem model, Biogeosciences.
2013 Talk by Cooter et al.: FEST-C for Bi-directional CMAQ: Update
2016 Talk by Cooter et al.: Enhancements to an Agriculture-land Modeling System - FEST-C and Its Applications
Previous Documentation
---
System Requirements
| | |
| --- | --- |
| O/S | Linux 64-bit x86 |
| Software | Spatial Allocator, VERDI |
| Compilers | Intel Fortran for EPIC, GCC for SA Raster Tools |
---
Partners
---
History of FEST-C
FEST-C V1.3 (06/30/2017) - Updated release
FEST-C V1.2 (05/31/2016) - Updated release
FEST-C V1.2 (02/09/2016) - Updated release
FEST-C V1.2 (09/30/2015) - Updated release
FEST-C V1.1 (05/30/2014) - Updated release
FEST-C V1.0 (10/25/2013) - First release
The development of the system has been funded by the EPA. The creation of the FEST-C interface and EPIC application was driven by the 2012 release of the bi-directional NH3 option for CMAQ. While there are other EPIC model user interfaces, FEST-C has been specifically designed to require minimal user inputs and to produce bi-directional CMAQ-ready output files for any CMAQ domain and grid cell resolution for which MCIP data is available.